I have gathered a list here of great modest clothing sites that you can look through and find some really gorgeous and practical modest apparel Some of these sites are helping our family each time you purchase a garment. Every little bit helps. God bless you in your desire to be modest.
Feeding9onadime
(this is our store)
A Google Plus Family
Hannah Lise
The Skirt Outlet
Lilla Rose distributor Savanah Armenta
Dainty Jewels
The Modest Mom
The Scarlet Thread
Modest Hand Maidens
Jumpin Bloomers
The Play Dress
Practically Pretty By Design
My Culottes
Meant To Be Modest Swim Apparel
Wholesale Wear Swimwear press next to see the site
Stitch in Times
April Cornell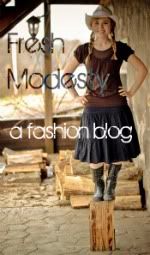 photo from Zulily
some modest some not
but very good deals at times






A Modest Creation
-they have great modest skirts and the treasure chest of sales is wonderful the prices are really affordable!
Modest Matters
- A modest clothing blog
Modest Mom
Klassy Girl Boutique
Let me know what your favorite modest clothing site is.